Menu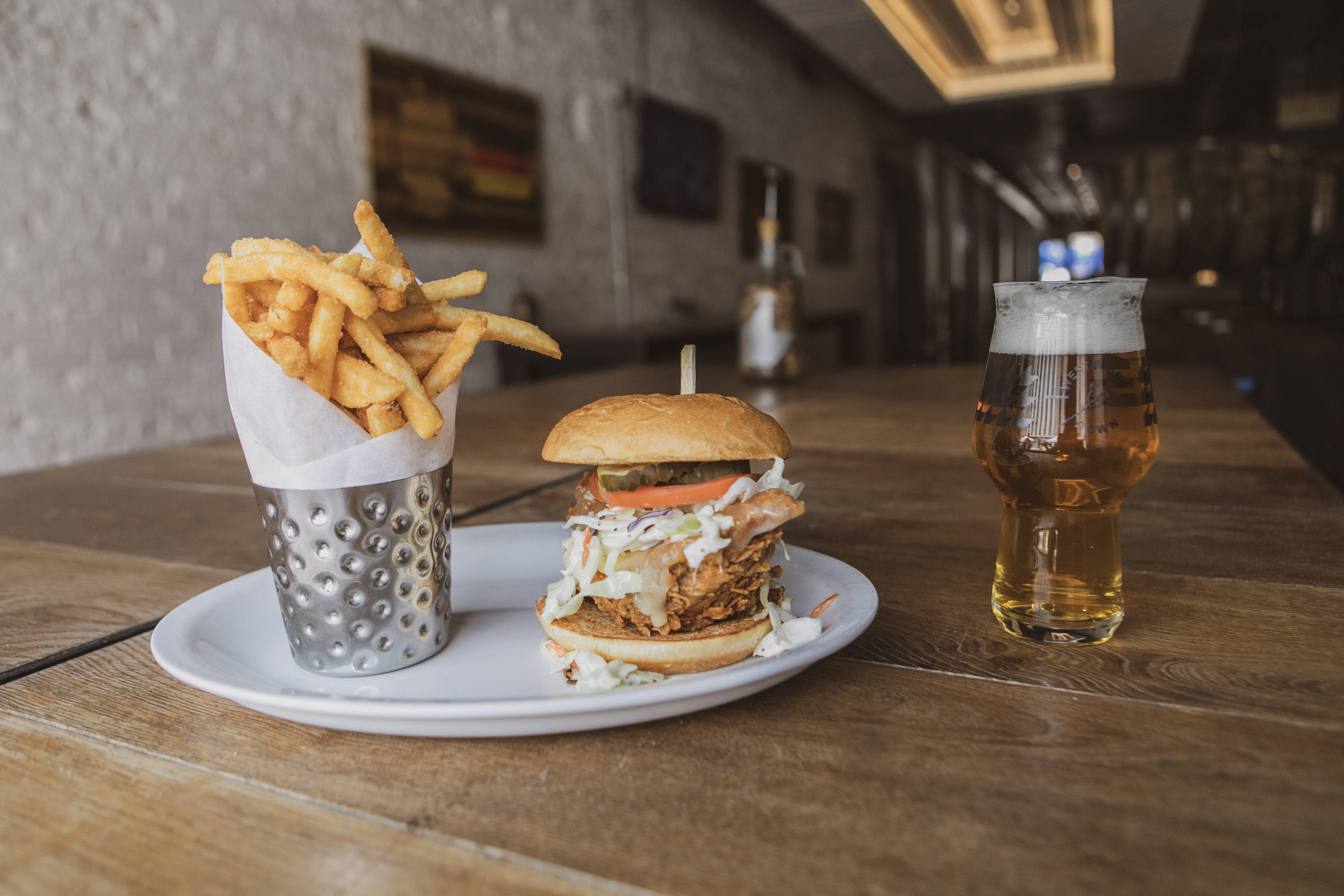 HOUSE CHIPS | 8
Garlic and Parmesan tossed
potato chips served with
beer cheese topped with
house hot rub and pickled
jalapeno
BUFFALO CHICKEN NACHOS | 17
Tortilla chips, beer cheese, buffalo chicken*, black beans, bleu cheese slaw, tomatoes, jalapeños
JUMBO PRETZEL | 14
IPA mustard, beer cheese, pickled jalapeno
HOUSE-MADE GREEN CHILI | 13
Braised pork shoulder & Hatch chiles, cotija cheese, jalapeño, cilantro
CAULIFLOWER WINGS | 12
Buffalo or BBQ
GREEN CHILI CHEESE FRIES | 13
Panko crusted Fries, beer cheese, house pork green chili, cheddar, fresh jalapeños
HOUSE SALAD | 12
Heritage blend baby lettuces, shredded carrots, tomatoes, red onions, croutons
CAESAR SALAD | 15
Baby gems, marcona almonds,
radish, shaved parmesan
Served with French Fries, Coleslaw, House Salad or Pork Cracklins
ADD TOPPINGS:
Fried Egg* — 2
Caramelized Onions — 1
Roasted Mushrooms — 1
Avocado — 2
Bacon — 4
Extra Beef Patty* — 8
Seared Ahi*— 9
Fried Chicken Thigh — 6
Vegan Bun — 1
Gluten- Free Bun — 2
WESTBOUND BEEF BURGER* | 18
Colorado beef double patty, double cheese, burger sauce, tomatoes, pickles
IMPOSSIBLE BURGER | 20
Vegan patty, burger sauce,
tomato, pickles
BUFFALO CHICKEN SANDWICH | 17
Buffalo style fried chicken thigh, blue cheese coleslaw
FRIED CHICKEN SANDWICH | 18
Chicken thigh, house hot rub, white cheddar, coleslaw, tomato and pickles
PHILLY CHEESESTEAK | 18
Seasoned beef steak, provolone cheese sauce, green peppers and onions
FRIED GREEN TOMATO BLT I 16
Colorado bacon, tomato, lettuce, fried green tomatoes, coconut serrano dressing
SEARED AHI TUNA SANDWICH | 18
Sesame crusted tuna, togarashi aioli, napa cabbage, pickled carrots, cucumbers, sesame ginger dressing
KIDS BURGER OR CHEESEBURGER | 8
WINTER SANGRIA | 10
Burgundy wine, pomegranate, apple, blood orange, cinnamon allspice honey
HOT TODDY | 12
Spiced Bourbon, lemon, honey, allspice, cinnamon
GIRL'S NOT GREY | 10
Grey Whale Gin, earl grey, lavender, lemon, butterfly pea flower
ELDER BURRO | 12
Redemption Rye, ginger, lemon, elderflower
CLOS DE LOS SIETE RED BLEND | 14
FLEURS DE PRARIE ROSE | 10
---
*These items may be served raw or under cooked, or contain raw or under cooked ingredients. Consuming raw or under-cooked meats, poultry, seafood, shellfish or eggs may increase your risk of food-borne illness.
**Please notify server of any allergies.
"For the Kitchen" surcharge is 3% added to all checks to benefit our back of the house employees. It is our direct effort and one legal way to better the standards of non-tipped employees. Thank you for supporting our kitchen family.